Carrot Cake with Cream Cheese Icing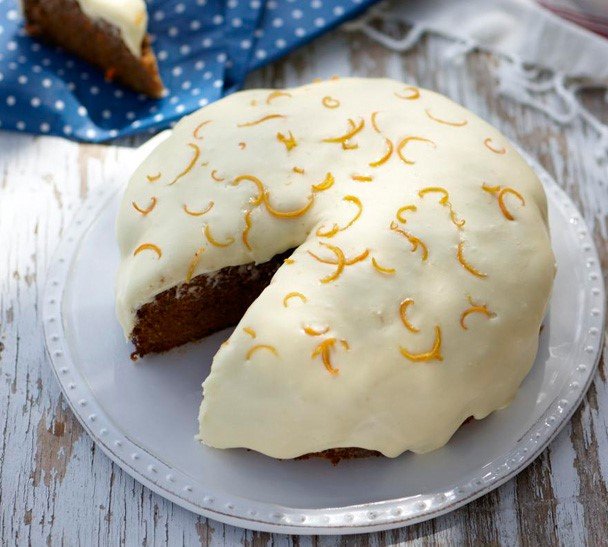 I'm not much of a sweet tooth, nor a cakey type person, but I make an exception for this, it's insanely good. Dense, moist and spicy. It's always a favourite and the recipe I get asked for the most, so here it is in all its glory!
Credit where it's due, the original recipe I found on Annabel Langbein's excellent site, I highly recommend looking through for more superb recipes.
I make a few tweaks, partly because I'm in Spain and a couple of the ingredients are hard to come by, partly because it's just better that way. Recipes are an inspiration not a formula!
---
Carrot Cake with Cream Cheese Icing
---
Prep time: 20 mins - Cook time: 55 - 60 mins
---
1 cup neutral oil, such as canola or grapeseed - olive oil is also good, it's all I have in the house here
2 cups raw or white sugar - definitely go dark sugar here, muscovado works well
4 small eggs
1 cup wholemeal flour
1 cup plain / all-purpose flour
¼ tsp salt
2 tsp cinnamon
1 tsp mixed spice
1 tsp ground ginger - go double if you like ginger, I do
3 cups grated carrot (about 3 medium carrots)
2 tsp baking soda
1 tbsp orange juice
1 cup raisins - soaked in dark rum overnight for better effect!
1/2 cup of chopped walnuts
Cups are metric 250ml, tsp 5ml, tbsp 15ml
Substituting Ingredients


Mixed spice seems impossible to find here in Spain, I sub in 50/50 nutmeg and ground cloves. Chinese five spice is another good option. It is possible to find Juniper peppercorns (enebro/ginebre) in some health food shops (apparently for adding to gin!). When this is ground, it's a reasonable substitute for allspice (Jamaican pepper), also very difficult to find.
Preheat oven to 160ºC fanbake. Grease a 25cm-diameter loose-bottomed cake tin and line the base with baking paper. Better yet, use a 25cm silicon cake tin and avoid the faff.
I depart from the original recipe at this point: Because it's a wet mix, there's no need to blend flour and carrots in the food processor for this step. If you do that, the carrot's texture will be ruined.
Place oil, sugar, salt, cinnamon, mixed spice, ginger and eggs in the bowl of a food processor and whizz to combine, making sure the sugar is mostly dissolved. To a decent sized mixing bowl, add the flour, raisins, walnuts and grated carrot and mix gently with hands to make an even melange. Make a well in the centre and pour in the batter from the food processor. Dissolve the baking soda in the orange juice, add to the mix and fold everything in with a wooden spoon – don't over-mix.
Pour into prepared tin and bake until the top bounces back when pressed and a skewer inserted into the centre comes out clean (55–60 minutes).
Allow to cool before icing.
If you're using the siliconware, once cool, place one hand underneath with a plate firmly on top. Flip upside down so the cake pops out, then repeat with a second plate to put it the right way up.
This cake is best the day after when all the flavours have infused properly if you can wait that long.
Cream Cheese Icing
75g butter, at room temperature
250g cream cheese (not the spreadable kind)
finely grated zest and juice of 1 lemon
4 cups icing sugar
shredded zest of 1 orange
To make the cream cheese icing, place softened butter, cream cheese, lemon zest and juice and icing sugar in a food processor. Blend until smooth then spread over top and sides of cake. Garnish with orange zest.
Warning


If you're zesting citrus and not buying organic, make sure to soak the fruit in close to boiling water with a tiny bit of soap for 20 seconds or so, then rinse off and wipe down. Non-organic citrus is often coated in a type of chemical wax to preserve the appearance, not really what you want to be ingesting!
A Note About the Icing
I've not made the cream cheese icing since I can't get the hard type of cream cheese here. I'm sure it's good, but 4 cups of icing sugar??!! That's a half kilo of sugar, more than I'd go through in a whole year outside of baking. Then to add a ¼ kg block of full fat cream cheese on top of the butter ...
Not that anyone is expecting carrot cake to be health food, but that part of the recipe reads like every cardiologist's worst nightmare.
Here's my alternative that also does a fine job. It uses roughly a quarter of the sugar and has less than a quarter of the fat:
Butter Cream Icing
70g butter, softened
140g icing sugar
1 tbsp milk - or, much better, a couple of shots of Gran Marnier.
¼ tsp vanilla extract
You're supposed to beat the butter until soft, slowly mix in the other ingredients and yada yada. Alternatively, chop up the butter (can be straight from the fridge), throw everything into a small electric food whisk and blitz. Chop chop. Ready in seconds.
It can seem a bit runny, but spread it over the top and let it soak in overnight. Maybe it's because I get generous with the Gran Marnier ... Add a bit of icing sugar if you need it thicker.